Essential Read for DIY & Hobbyist; Sheet Metal Design
Introduction
Whether you design your enclosure from scratch or make use of one of our simple template-based designs, knowing the basics of enclosure design will make your work easier.
This page offers information on basic concepts of enclosure and sheet metal design.
Metal Selection
Major considerations for the metal selection are the types of metal and their thickness. variety of standard materials including Cold Rolled Steel, Stainless & Galvanneal, Aluminum and Copper.
Please note how different materials respond with corrosion, welding, powder coating and more.
Bending Metal and Bend Radius
Sheet metal enclosures are fabricated by 'cold forming', where the metal is clamped and bent in machines called 'press brakes'. As a result, metal typically cannot be formed into a true 90 degree corner. Instead, the corners are curved.
Different degrees of curvature can be achieved, and it is described by a parameter called 'bend radius.' Note that bend radius is specified as the radius of the INSIDE surface of the bend.
Bend Radius Diagrams: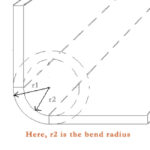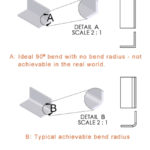 Fasteners
Self-Clinching fasteners are threaded nuts, studs, or standoffs that are mechanically pressed into sheet metal to provide solid fastening points.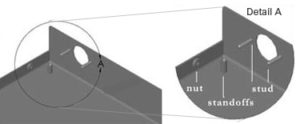 Fasteners Full Product Lists:
Self-clinching Stand Offs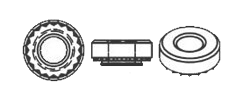 Self-clinching Nuts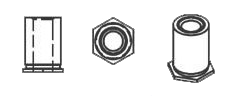 Self-clinching Studs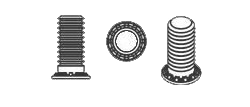 Welding
Welding Diagrams: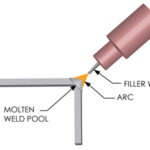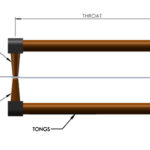 Depending on your sheet metal design, you may desire spot-welded enclosures or fully seam-welded enclosures. With many enclosure designs, such as our standard U-shape (clam shell), no welding is required. One section of the enclosure contains small flanges with self-clinching nuts and the other section of the enclosure is fastened using mechanical fasteners such as machine screws or sheet metal screws.
Spot welding would be used in cases where disassembly is not required. Fully seam welded edges may also be a requirement, especially if the application requires a more tightly sealed enclosure.
Design tips and guidelines for sheet metal fabrication, including design considerations for press brake, CNC turret press, Laser and Stampings. click to read 
you can register and download a detailed Guide at click here